Mine Sweeper
Background:
Try the well know Mine Sweeper game through IDEAscript.
Documentation:
How to play minesweeper
Minesweeper consists of a grid that represents a minefield. The purpose of the game is to clear the minefield without detonating any of the mines. You click on spots on the grid, which will either reveal empty spaces, spaces with numbers or mines. The numbers tell you how many mines that space is adjacent to vertically, horizontally and diagonally.
Start the game by clicking on one of the squares in the grid.
If you click on a space that is not adjacent to a mine, it will open all other spaces in the area that are not adjacent to a mine, which will make finding mines easier.
Continue with the game until you uncover all the spaces that are not mines or until you click on a mine and lose.
When you start the game you will have the following screen: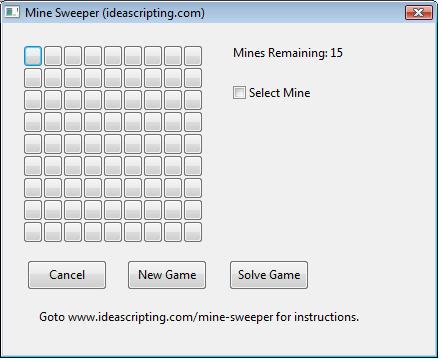 If you want to quite the game select the Cancel button. For a new game select the New Game button and if you give up and want to see board select the Solve Game button.
Click on any of the spots on the grid to start, to indicate that a spot is a mine click on the Select Mine option and then click on the spot to have a ! appear on the spot indicating that there is a mine.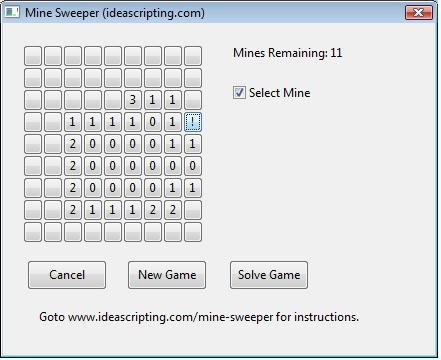 The game will complete once all the spots have been uncovered.